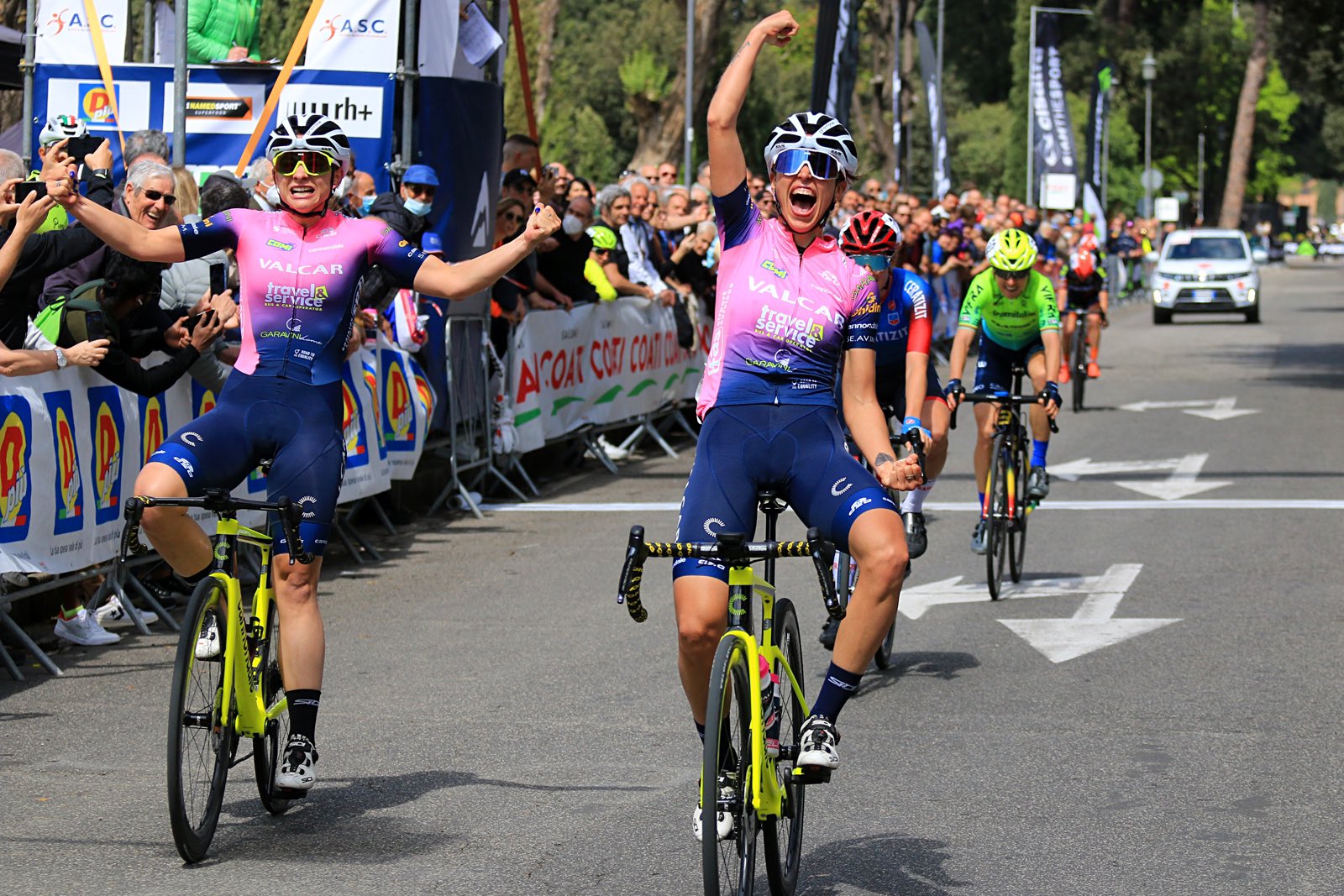 Valcar – Travel & Service
Heads have been turned, tears have been shed and stupor has been expressed but this formidable team will have to part ways with their best riders. While the stars of the team will be making the happy days of UAE team ADQ, the Italian women cycling factory will be back to what it does best: producing young Italian talents.
Their 7th season in the pro peloton was their best yet. Chiara Consonni revealed herself as one of the best sprinters in the world, Olivia Baril exceeded all expectations when she joined the team in 2022 and Silvia Persico is definitely the next big thing in the Women cycling world.
But 2023 does not mean the end. In fact, the development team has invested in young Afghans with Fariba Hashimi leading the way and the performance of the latter is much anticipated.

Silvia Persico
Priced at 6 credits in the superclassico, nobody had heard of her before. The 24 year old at first described as a sprinter, discovered some climbing abilities that she probably did not know she possesses. As good a sprinter as a climber she is, the time-trial is her weakness. A field that she definitely has been working on to cement her place among the big girls in the general classification.
A 9th place in Gent-Wevelgem, an 11th place at Ronde van Vlaanderen and a 7th place at De Brabantse Pijl is a rather timid start to the season she was going to have.Nevertheless she still managed a 29th best superclassico total with 729 points.
Ride London Classique, a race which favors the sprinters and she still managed the 6th best score with 432 points. While she cost 4 points less than team-mates Chiara Consinni (14), both managed to integrate the best possible team.
Best possible @velogames team for #RideLondon:

Lorena Wiebes
Lotte Kopecky
Chiara Consonni
Silvia Persico
Julia Borgström
Jesse Vandenbulcke
Rachele Barbieri
Simone Boilard
Vittoria Guazzini

3537 points, 98 credits— Calum Lonie 🇮🇪🇨🇵🇪🇺 (@CalumLonie) May 29, 2022
Then came the Giro Donne and nobody could have predicted what the 10 points rider would achieve. She climbed with the best to snatch a final 7th place in the final standings.
In the Giro Donne Velogames, her 539 points brought her the 9th best rider. None of the 8 above her cost as little. Best possible team stuff again of course.
Best possible @velogames team for #GiroDonne #GiroDonne22

Annemiek Van Vleuten
Marta Cavalli
Mavi García
Kristen Faulkner
Silvia Persico
Rachele Barbieri
Gaia Realini
Anouska Koster
Neve Bradbury

5766 points, 100 credits— Calum Lonie 🇮🇪🇨🇵🇪🇺 (@CalumLonie) July 10, 2022
The Tour de France Femmes was the crowing of Silvia Persico. While she 'only' finished 5th in the general classifications, her stage placings everyday brought her the second best rider place in Velogames Femmes with 955 points. Only Marianne Vos at 14 points earned more (1035) points.
Best possible @velogames team for #TDFF Velogame Femmes 2022:

Demi Vollering
Marianne Vos
Katarzyna Niewiadoma
Lotte Kopecky
Juliette Labous
Silvia Persico
Évita Muzic
Veronica Ewers
Maike Van Der Duin

5826 points, 100 credits— Calum Lonie 🇮🇪🇨🇵🇪🇺 (@CalumLonie) July 31, 2022
Even though she only finished 11th in the Ceratizit Vuelta, a stage win and green jersey got ther the 5th best Velogames rider for 12 points.
She comfortably made the best possible team while race winner Annemiek Van Vleuten did not.
Best possible team for 8th Ceratizit Challenge by La Vuelta:

Elisa Longo Borghini
Liane Lippert
Lotte Kopecky
Elise Chabbey
Silvia Persico
Ane Santesteban
Anna Shackley
Amber Kraak
Megan Jastrab
Score: 3448
Cost: 100— Jeremad (@jeremader) September 11, 2022
Her climbing and sprinting abilities also got her a third place in the World Championship.
Verdict 2023: While she is logically going to undergo a significant price rise in the super classico she needs to be considered for her speed. In the stage races, her selection is essential for all even if it means not taking Annemiek Van Vleuten.
Chiara Consonni
Winner of Dwars door Vlaanderen and second at Scheldeprijs, she brought a total of of 955 from these two races. But her cost of 14 points made her difficult pick as she scored only 72 points from the other 3 velogames classic races she started.
Earning 506 points, she shared a place with her team mates Silvia Persico in the ride London classique Velogames best possible team.
While she cost 12 points in the Giro, she earned the 16 best total with 362 points, with 150 of which owing to her stage win.
Her 12 points price in the Simac Ladies Tour 2022 was not worth it. She only earned 109 points while 8 points team-mate Eleonora Camilla Gasparrini earned 414 for 8 points and a place in the best possible team.
Best possible team for 25th Simac Ladies Tour:

Lorena Wiebes
Mischa Bredewold
Ruby Roseman-Gannon
Anna Henderson
Riejanne Markus
Karlijn Swinkels
Audrey Cordon-Ragot
Eleonora Camilla Gasparrini
Laura Tomasi
Score: 5876
Cost: 98— Jeremad (@jeremader) September 5, 2022
Verdict 2023: She will be spearheading UAE team ADQ sprint along with team mate Gasparrini but there is still a class difference between and the Lorena Wiebes.
Olivia Baril
Her 8th points at Itzulia for a return of 307 (10th best) earned her a seat at the best possible team. More of a climber than a cobble rider, she strangely did not earn a lot of velogames points.
However her 6 points made her an attractive points as she brought back points in 5 of the 6 velogames classic races she started.
Best possible @velogames team for #ItzuliaWomen:

Demi Vollering
Liane Lippert
Pauliena Rooijakkers
Niamh Fisher-Black
Kristen Faulkner
Floortje Mackaij
Olivia Baril
Veronica Ewers
Petra Stiasny

3947 points, 100 credits— Calum Lonie 🇮🇪🇨🇵🇪🇺 (@CalumLonie) May 15, 2022
Verdict 2023: In a team full stars, she might be a good bet in hilly stages like Liege Bastigne Liege…
---
You can also follow A Leadout on: Facebook, Instagram, Twitter, Mastodon, the GCN App and Now Even TIK-TOK 😁