BORA-hansgrohe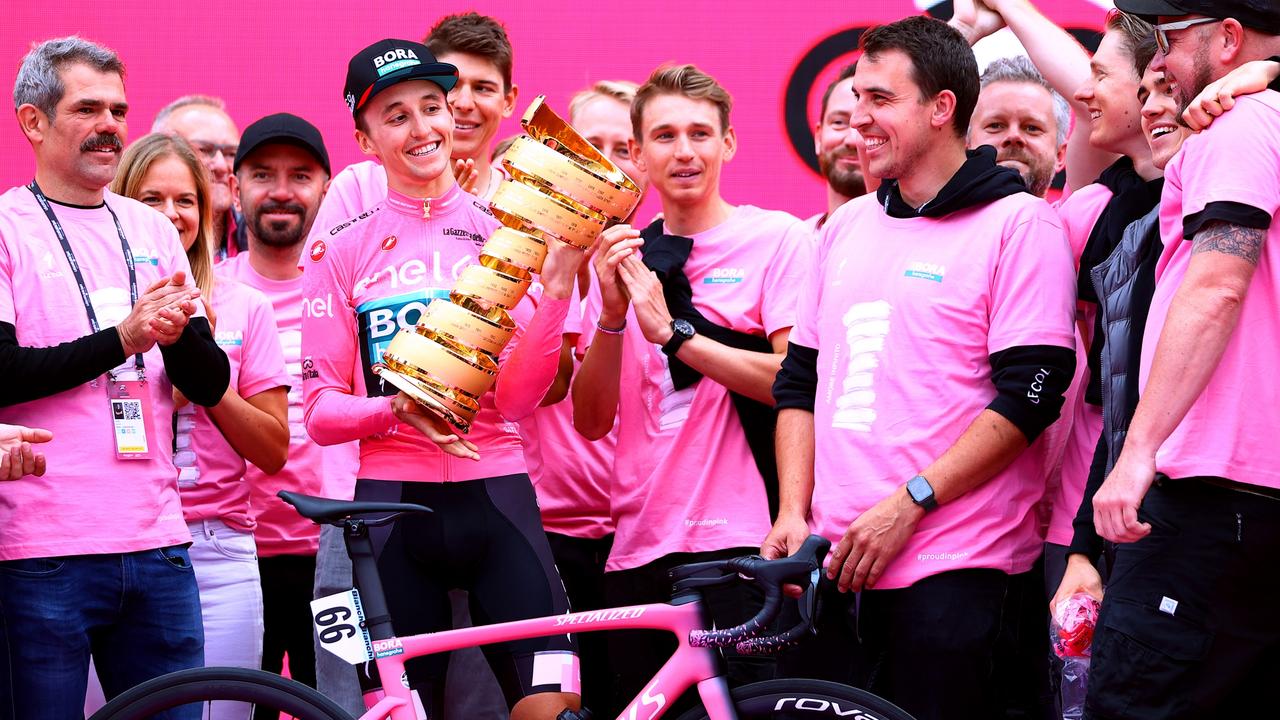 The first post Sagan season has been nothing more of a success for the Band of Brothers.
After brillantly winning the Giro. by setting using powerful riders like Kamna and Keldermann for ambush one after other, Jai Hindley won the team's first grand tour.
Sergio Higuita and Alexandr Vlasov also did their fair share of performances in one week races.
After a long struggle, where he only won in Frankfurt, Sam Bennett suddenly seemes to turn the page by winning two out two stages in Spain and later continuing to show some good form in Paris- Elites.
1.Danny Van Poppel:
1470 points at 16 points for a rider that only plays as second fiddle that is quite some achievement.
Excellent on cobbles, improving in climb he will always has his one card to play.
These days, he is being considered as the best lead out in the world, so much that he could lead himself out.
Depending on the form of Sam Bennett, which I expect to be much better than the one we have seen in the last 2 years, Danny Van Poppel will always perform in the Ardennes classics was he to be give the chance.
His performances in the grand tour is nothing of genius velogames wise. priced at 6 at the tour de France, he was his team main sprinter and ended up bringing 538. This feat was overshadowed by Laporte bring 968 at 6 points only.
Same story in the vuelta, except that he started as Sam Bennett leadout man when the latter took 2 wins out of 2 sprints.
The Irishman latter abandoned and freedom was granted to Danny Van Poppel.
He costed 8 points and was the third best sprinter behind Mads Pedersen and Pascal Ackermann.
Verdict 2023: When Bennett is not going one day races he should be in your 6 men Superclassico squad. Difficult to predict his place in a grand tour if other riders like Bennett, Meeus, Haller and Matthew Walls.
2. Sam Bennett:
The Irishman has been cutting a very frustrating figure except for the Frankfurt classics that he won.
He did bring some velogames in De Panna and Schdelprijs but that those were not constant and regular enough for a rider rated at 22 coins and who we knew can do better.
Then came the Vuelta, where he looked to be the deal, priced at 10 he won the first two sprints and looked to be the deal.
Then came the positive covid test, and the abandon and we all had eyes for Mads Pedersen.
His performance at Paris-Tours Elite finishing 3rd after being in late break away showed he is back if not better.
Verdict 2023: If he manages to stay fit, this is his season.
He has successfully worked himself to be part of that new generation of hybrid sprinters that do no rely only on sprint trains to win but can actually grab win by the neck by attacking or following moves themselves.
3.Sergio Higuita: He cost only 14 coins in the superclassico and that looked like a bargain.
But as great as he can be, he can also be anonymous.
The same goes for stage races.
He did not his job in superclassico in the early part ( 10th at strade Bianche and 5th at Liege Bastogne Liege).
Those were his only superclassico races in the first part of the season and his 4th place in Lombardia confirms that he is reliable when it comes to one day classics that fits him.
Then come the stage races, and it is a completely different story.
As mighty and unbeatable as he looks in one race, vulnerable and invisible he can be in the next.
Won Catalunya Underperformed before abandon in ItzuliaUnderperform in Romandie 2nd at Tour de Suisse7th in Poland shocking performance in Vuelta (23rd) A real roller coaster of performance indeed.Verdict 2023: He is safe bet in the Classics that suits him.
His quality makes that he will never be a cheap option in stage races but it is all down to timing about his selection in stage races.
My guess is that he does not try his best when he knows that stages like long time -trial would ultimately define the final standings.)
4. Jai Hindley:
You don't become a grand tour winner over-night.
He did finished second in 2020 and took some time to find his mark in 2021.
Maybe a podium but nobody would have predicted a final win for the Australian.
Even as a grand tour winner, he will have to repeat his performances against the elite before going into the 20+ price tag for stage and grand tour races.
Even though, he won the Giro he was second to Carapaz in terms of Velogames points earned but with a price tag of 10.
In the Vuelta, he underwent a significant price raise to 18 and his 947 VG points earned ( 13th) was not worth it.
At 10 points, He has yet to prove himself in superclassico legs.
Verdict 2023: Grand Tour winner, but choosing him for stage races is worth it only if he is affordable ( 12 and less) .
In other cases, his real chances of figuring on the podium depends on the field he is facing and definitely the strength/co leadership in his team.5. Alexandr Vlasov :
His performances before being tested positive at the Tour de Suisse were so exceptional that he was touted as being the man to be able to play with the Slovenians.
He nevertheless somehow managed a respectable 5th despite being very often seen as being the first to be dropped when the elite climbed.
At the Tour de France, his only GT of the year, he was priced at 14 and brought in 1101 points.
His final 5th might look impressive but velogames wise he was not among the best placed. Gerraint Thomas also priced at 14 brought in 2025 points.
For cheaper, especially at 10 coins, Gaudu was the bargain with 1442 while Bardet who also cost 10 coins and Pidcock at 8 brought around the same money back.
In one week stage races, the Russian is ALWAYS one to go to if he is not sick or out of shape.
Decent time trialist, he enjoys short climbs and is probably the one with the best sprint.
He is also a reliable rider in classics.
His underperfomance in the late part of the season ( the Italian Classics) is down to him not being in form.
His peak having been scheduled for July.
Verdict 2023: Out of all the Bora GC guys, he is and will remain the most reliable.6. Marco Haller:
Pretty much under the radar, more often working for others.
He had his chances in E3 Saxo classics and the BEMER classics and he took it.
Verdict 2023: it is all down to the sprinters hierarchy classics in the team. If in the particular race his #1, take him.
7. Jordi Meeus:
Another sprinter of the team who also performs when it is his turn to lead the sprint.
Verdict 2023: that sprint hierarchy train:
Bennett
Van Poppel
Meeus
Haller
7. Nils Politt/ Ide Schelling/ Matteo Fabbro/ Lemnard Kamna/ Lucas Postelberger
The most typical of classic riders and breakaway riders.
In classics races, when together there will always be one going for the break but it is hard to pin- point who.
Bora-Hansgrohe usually plays different card with stage wins in grand tour while safely securing a position for their GC man.
Grand Tours have different physiognomy but in the Velogames POV, stage hunters usually make the best options as climbers in Giro and Vuelta while Tour de France is all about GC.
8. Wilco Keldermann:
He seems to have relish on his own chances of a grand tour win by working for others in the Giro and Tour. Verdict 2023: He is moving to team Jumbo Visma to continue to work as luxury domestique to Roglic and Vingegaard.
9. Emmanuel Buchmann. Maximillian Schachmann
Both are riders are exclusive potential that always seems to be on the wrong side of luck.
In a team with Vlasov, Higuita and Hindley, their chances of leading the front are still more limited.
Verdict 2023:
Both will have their chances
Watch out for races like Itzulia, Romandie or Switzerand where Higuita will be the sole leader on paper and there are some consequent time trial.10. Cian Uijtdebroeks:
The little prince of cycling is awaited at the corner after successfully graduating the Junior ranks.Verdict 2023:
His performance vs the elite in classics is much awaited. Hoping for a low superclassico price ( sheffield/turner) in his first season.
You can Follow A LeadOut on Facebook, Instagram or Twitter for notifications about new posts.
While donations are most welcome on PayPal,